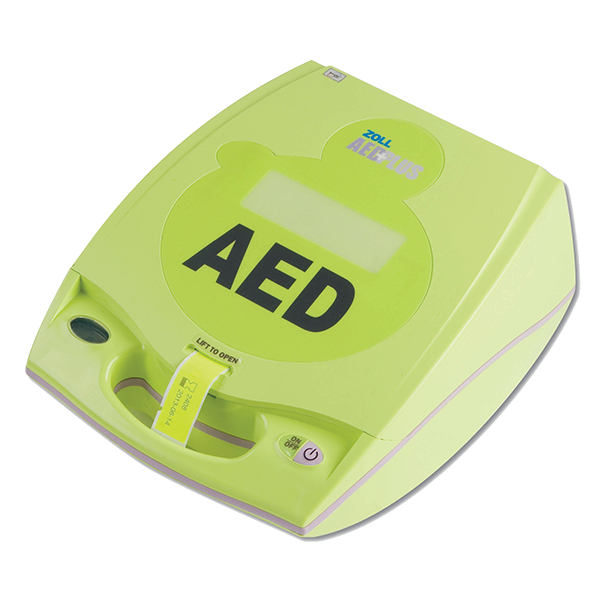 Don't buy an AED that only works 50% of the time!
ZOLL's AED Plus®
"Best support for the rescuer"
Contact us for a free product demonstration and quote!
Choose
Zoll AED Plus provides the Best Support for Rescuers.
ZOLL's AED Plus® features Real CPR Help®, a CPR feedback tool that is able to actually see what you are doing and provide feedback to help you do it well. Audio and visual prompts help you rescue with confidence and clarity unmatched by any other defribillator
Only defribillator with Real CPR Help, offers real-time CPR feedback, providing the best support for Saving A Life. Only defribilltor that guides rescuers to proper depth and rate of chest compressions.
AED Plus lid acts as a "passive airway support" to maintain victims open airway.
Only Fully Compliant defribillator, meets American Heart Association CPR guidelines for proper depth of Compression, has FDA approval.
Lowest total Cost of Ownership. Only Replace electrode pads and batteries once in 10 years. AED Plus – Lowest Cost, Once Installed
Best Ingress protection against dust and moisture.  If you simply would like to buy a defribilatore, there are many to choose from, if you are serious about saving a life, contact us today about a ZOLL AED Plus Demonstration and FREE CPR Certification Offer.
Part #8000-0809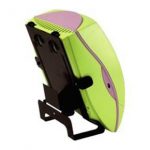 Used to mount AED Plus on a wall without the carry case.
Part #8000-0855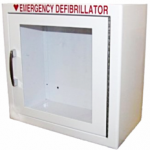 Visibility of your AED Plus is essential so that it is easy to find in an emergency situation. The 9" alarmed wall cabinet holds the AED Plus in a carry case with an extra set of electrodes.
Price: $185
Part #8000-0817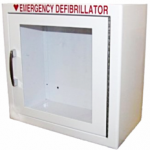 Flush Wall Mounting Box (fully recessed wall cabinet designed to hold AED Plus on a bracket without carry case and one spare set of electrodes
Price: $296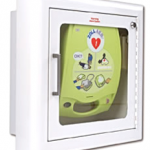 Alarmed AED wall cabinet holds AED Plus (on a bracket without the carry case)and one spare set of electrodes.
Dimensions 17.3" x 17.3" x 3.5" 44.1 cm x 44.1 cm x 8.8 cm
Price: $296